Lighting Design in South Tyrol

Professional Planning
We take care of the perfect lighting in various settings, including apartments, villas, offices, hotels, medical practices, commercial buildings, shops, and more. With diverse referenzen in different categories, we bring a broad range of experience and expertise to your construction project.
Please always schedule an appointment for lighting design in advance by email ([email protected]) or phone (+39 0473 29 22 84). Our lighting designers look forward to your inquiry and will review documents and planning files in advance to be optimally prepared for the initial meeting.
What does lighting design actually mean?
Lighting design involves the meaningful positioning of light sources and their integration into the aesthetics, spatial conditions, and functionality of a particular environment. Both the technical aspects (the light) and the aesthetic aspects (the luminaire) play crucial roles.
Lighting point planning is a comprehensive topic that accompanies the construction process from beginning to end. It extends beyond simply placing the lighting points. To create a wonderfully cozy ambiance that can be optimally utilized, we work closely with architects, executing craftsmen (electricians, carpenters, locksmiths, gardeners), and construction companies. This results in a cohesive outcome that not only looks good but also functions perfectly.
Why is our lighting design service free?
Lighting design is a very complex matter that requires not only time and effort but also experience, creativity, and motivation. Each project is unique, and every customer is different, so individual treatment is essential to differentiate the project from the ordinary. How is it then that this service is free?
We provide non-binding planning with passion and expertise. If our customers appreciate the service and are pleased with the outcome, we reach a mutual agreement, and we deliver and install our concept. Drawing on over 100 manufacturers and artisans, we can develop budget projects as well as luxurious and highly innovative designs with technically and aesthetically superior solutions. In any case, we strive to make our designs intelligent and cost-effective, considering the costs associated with other trades.
How long does a lighting design take?
The duration depends on the size of the building or project. For an apartment design, approximately one to two hours should be allocated for the initial appointment, followed by 2-3 subsequent appointments. For the initial appointment of a single-family house design, about two hours should be allotted.
Who coordinates the design on the construction site?
As always, a design is only valuable if it is implemented. We strive to be a valuable interface between electricians, customers, architects, and, if necessary, other trades, providing information to experienced assembly personnel if the installation of luminaires or lighting units is desired.

The key points are as follows:
Placement of lighting points
Integration of furniture and the overall living concept, as well as the planning of different trades (e.g., carpenters)
Coordination of trades (electricians, possibly masons, plasterers, tile layers, carpenters) - instruction, information, and possible updates.
Lighting control (e.g., KNX system)
We are your partner for lighting design:
We design with experience, courage, and sensitivity. After clarifying your preferences, we support you with creative ideas and draw on over 100 manufacturers and artisans. Customizations are also possible. We have in-depth technical knowledge and plan with state-of-the-art software and robust hardware. Our plans are construction site-ready and can be implemented immediately.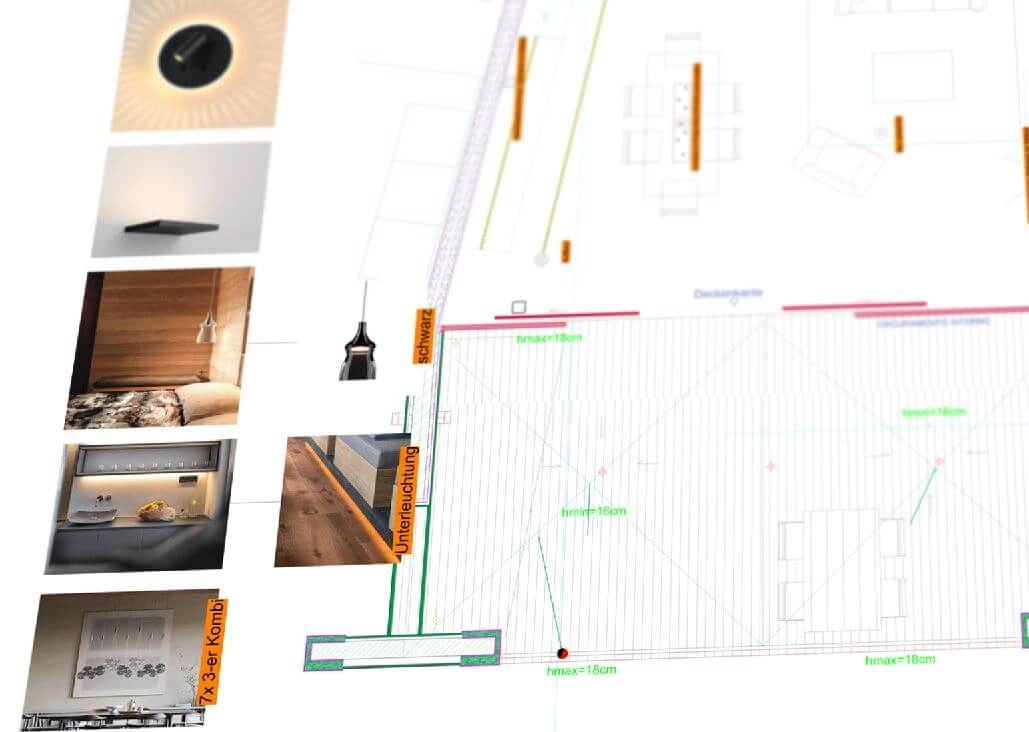 See for Yourself
Visit our showroom and see for yourself our team and equipment. Seek advice, check our references, ask our partners and customers, and read our reviews. We make a difference by being passionate about what we do and providing not only professional expertise but also conscientious guidance.
Lighting Design in South Tyrol
Our lighting design services are available not only in the Merano and Bolzano areas but throughout South Tyrol and beyond.
Lighting Calculation:
If a lighting calculation is needed to accurately predict the outcomeof the lighting situation, take advantage of our lighting calculation service.