The CENTURY-Italy was founded in 1995 and within a decade ranks among the most successful companies in the field of lighting at national and international levels, which produces and distributes the brand CENTURY for energy-saving lamps, halogen lamps and LEDs.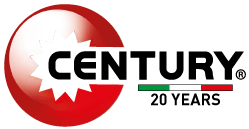 Recessed Spot Klak (frame) by Century
Recessed spot light Klak, socket included Klak Cenutry has a patented system for fixating GU10 or GU5,3 bulbs, that works without a fixation ring. The result is impressive - even visually unappealing LED bulbs seeming, through the lightweight framing, as professional LED spots. The recessed light comes with two sockets, GU10 and GU5,3. Each bulb of these types can be used, which takes place via simple snap into the back. While inserting, the frame on the inside must be kept in order to avoid a upper lashing of the rotary mechanism. The spot can be directed. Klak is available in three colors: white, chrome or gray. The frame is shipped without LED bulbs.
Delivery time 7 working days
Recessed LED Spot Venus
Recessed LED Spot Venus Powerful recessed light for the home or professional use. With a very good color rendering index (CRI>95) and two LED-colors (3000k or 4000k) Venus offers maximum flexbility. The cutout can be from 6.8 to 8cm. Venus has a patented system which does not require a fixation ring for the bulb. Also, the module can be replaced with a normal GU10 bulb, in the case of a defect or problems without any additional parts or tools, thus Venus Century offers maximum protection and substitutability. It is used a CREE LED and a Reelux optic with 38°. The recessed spotlight can be aligned.
Delivery time 7 working days