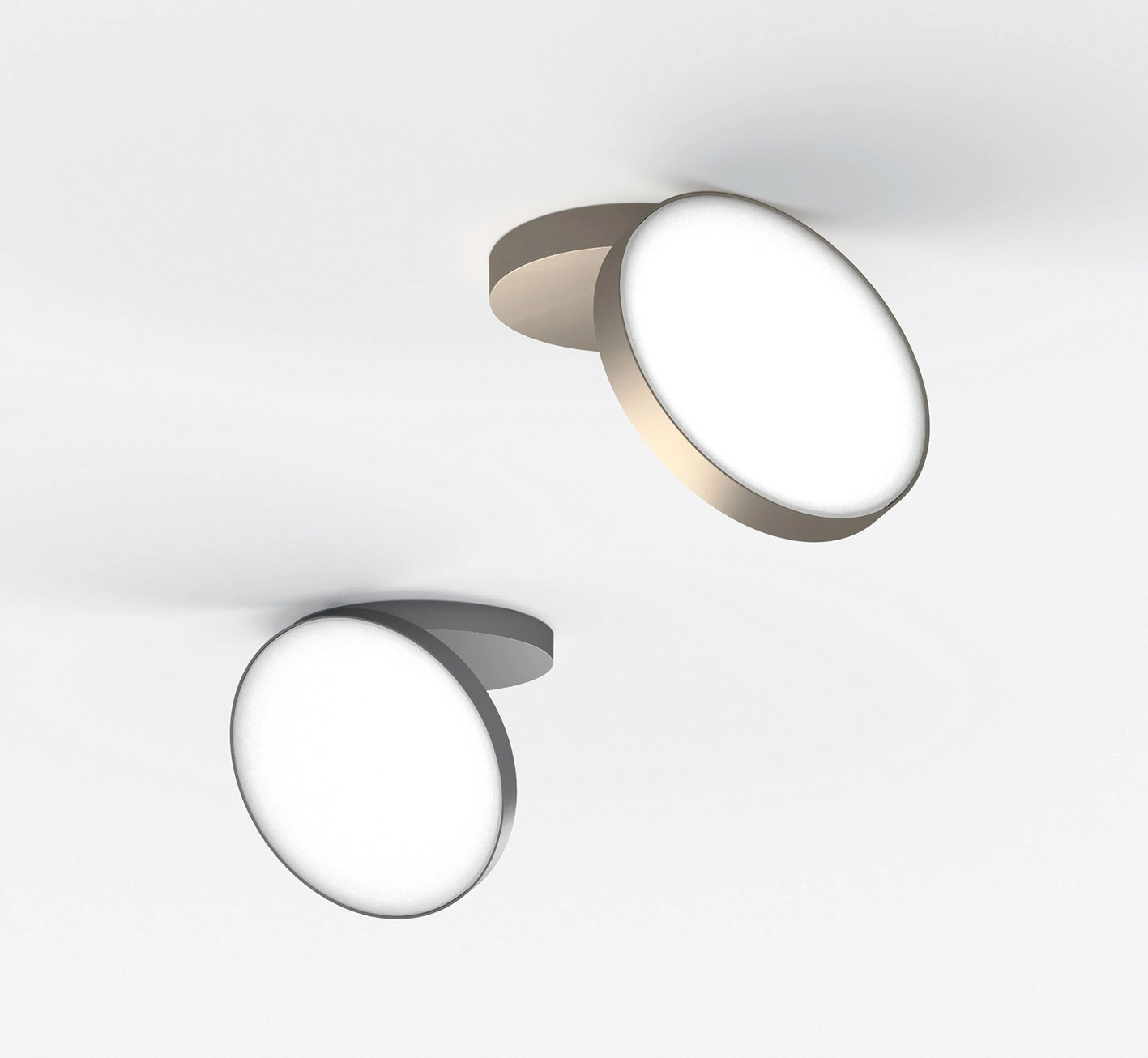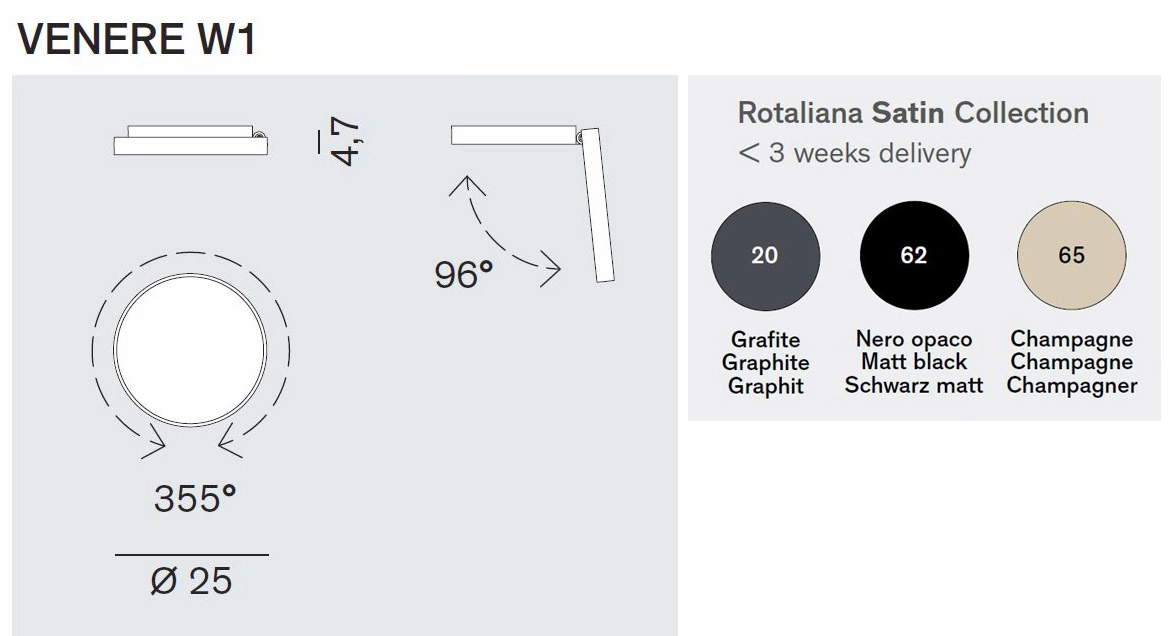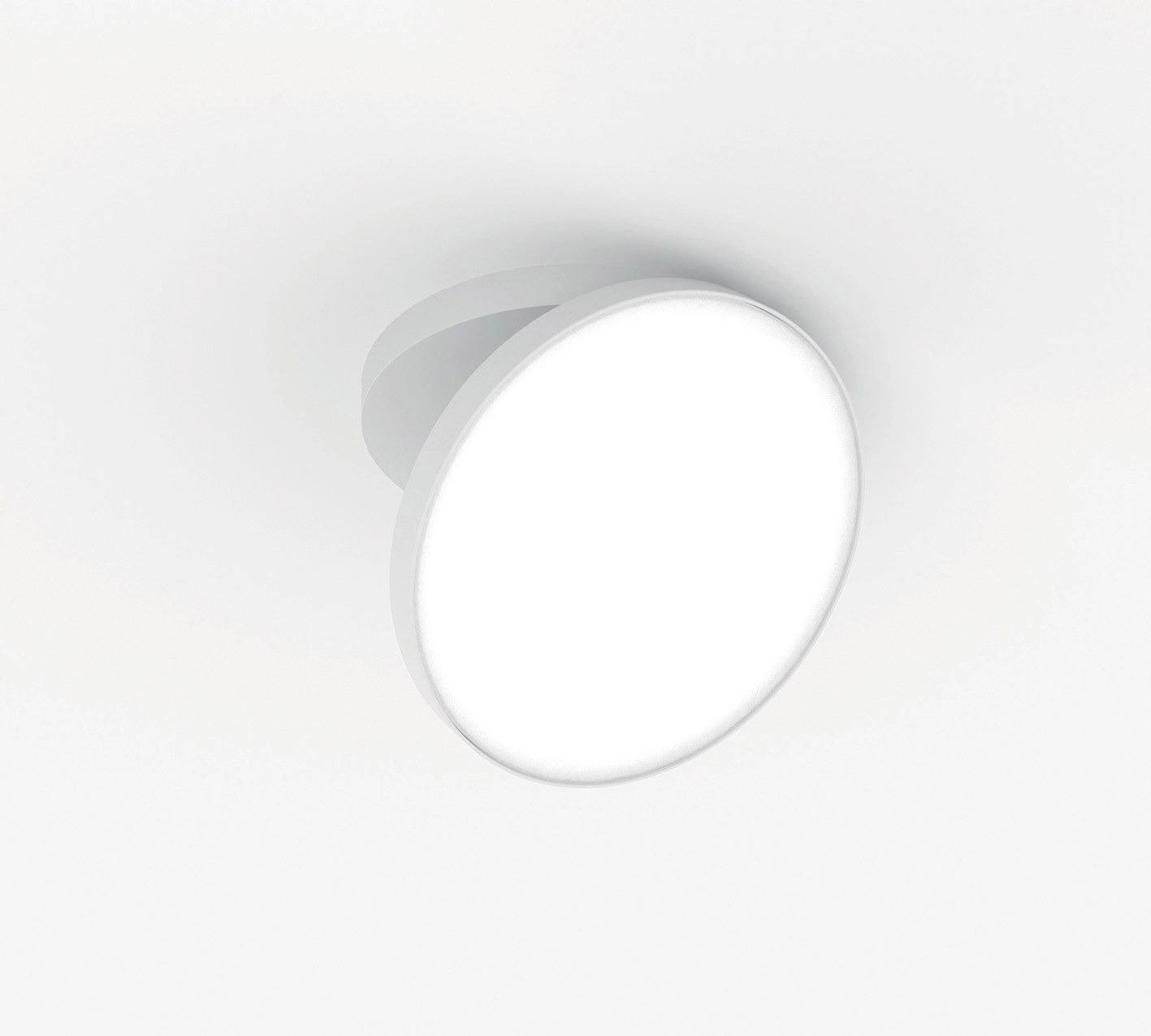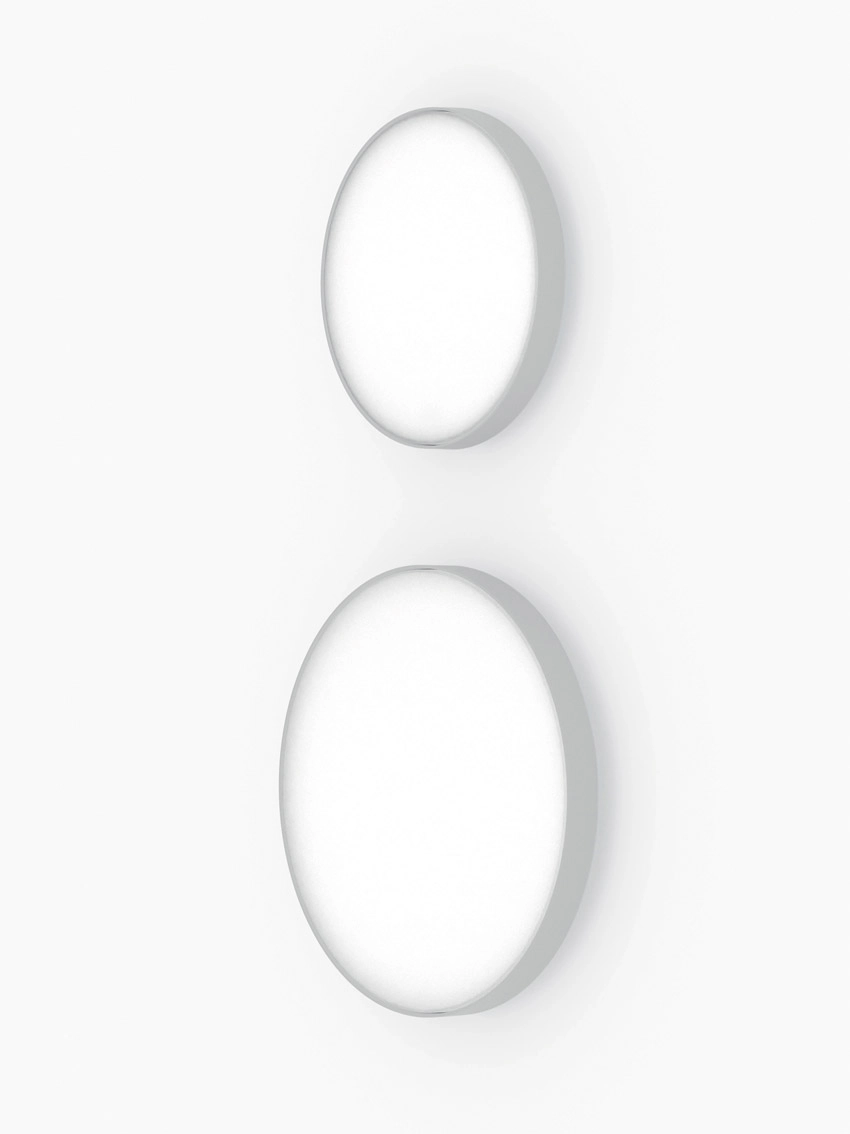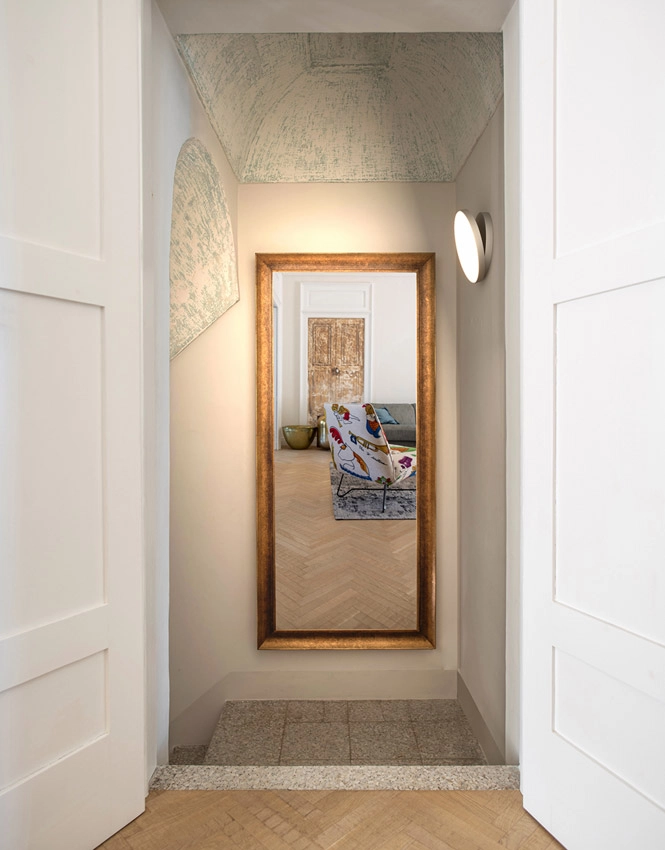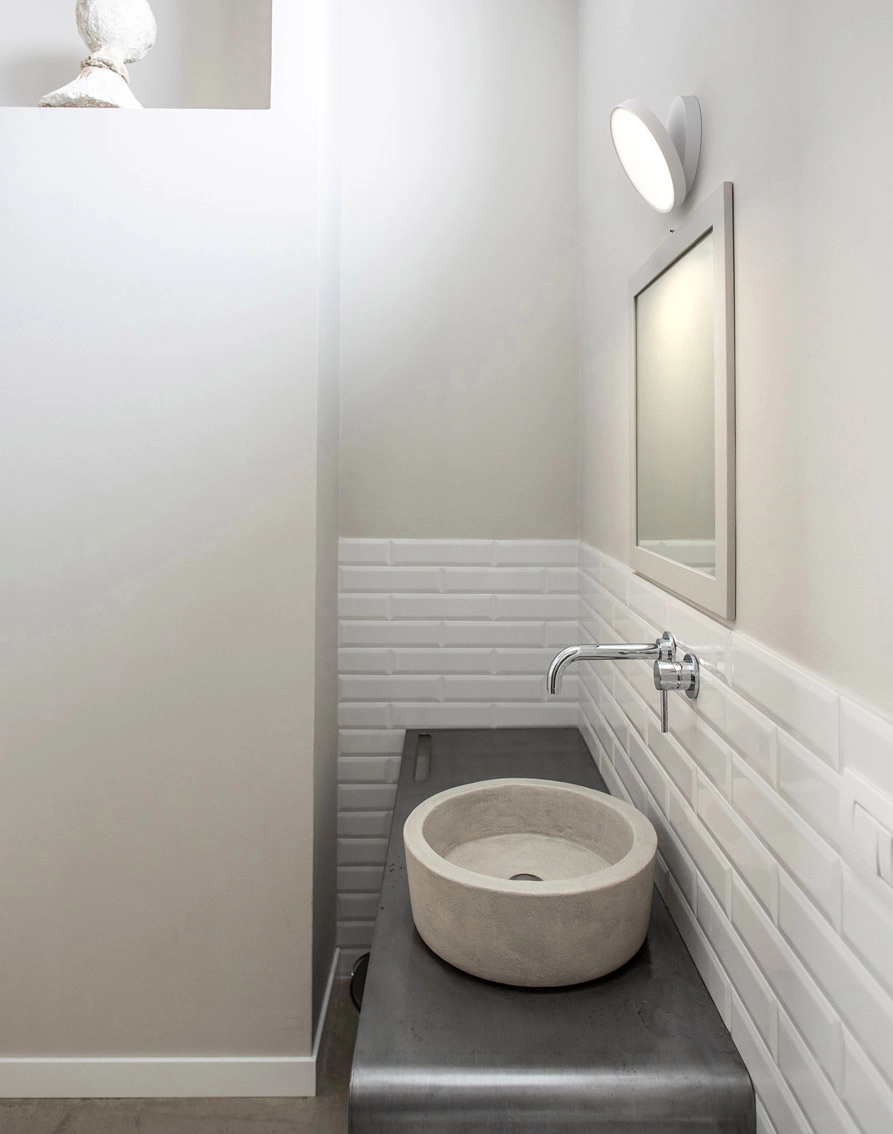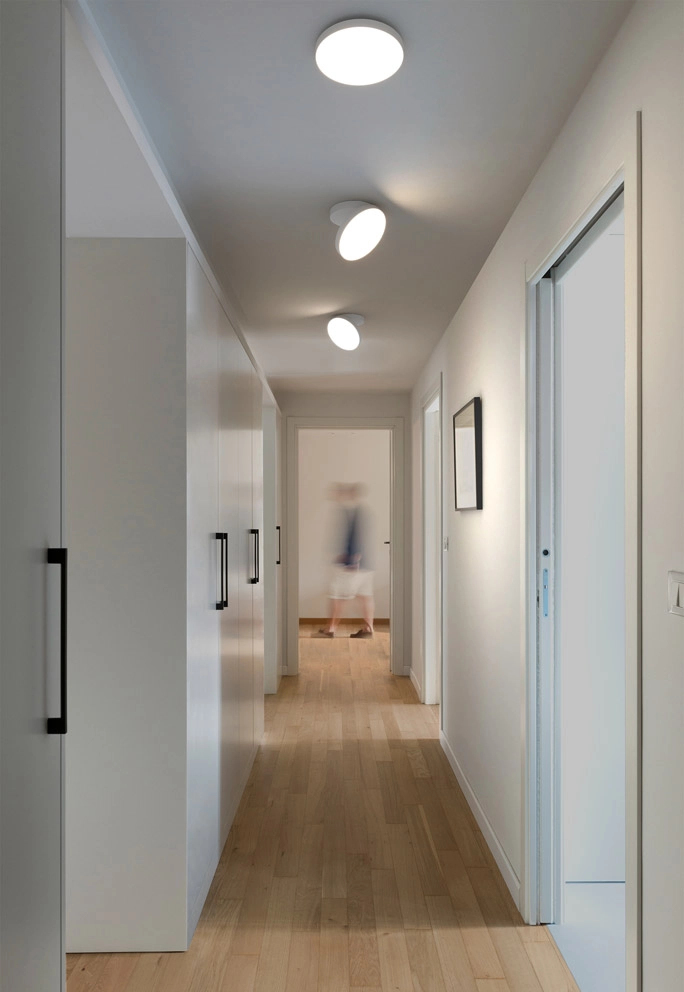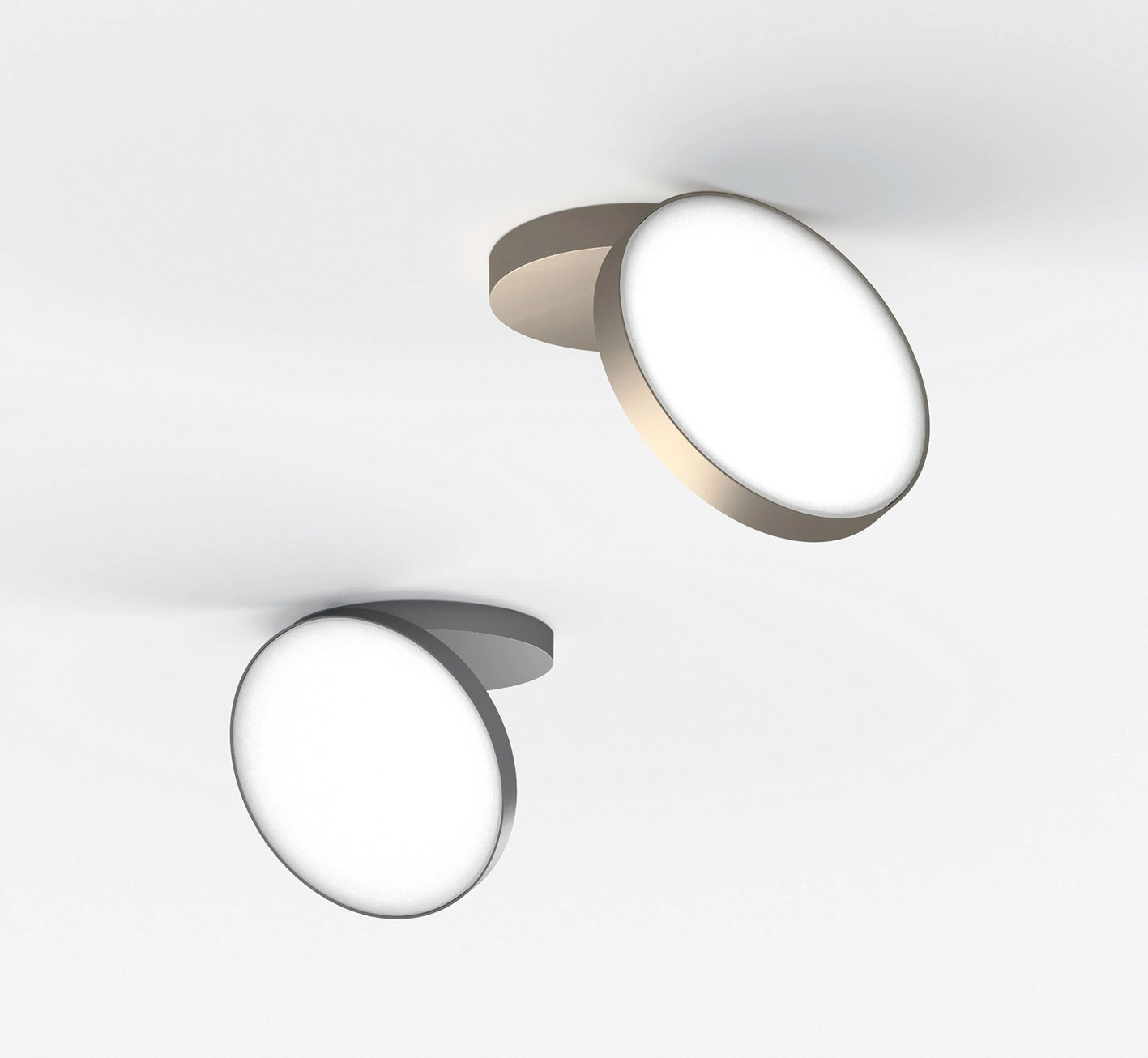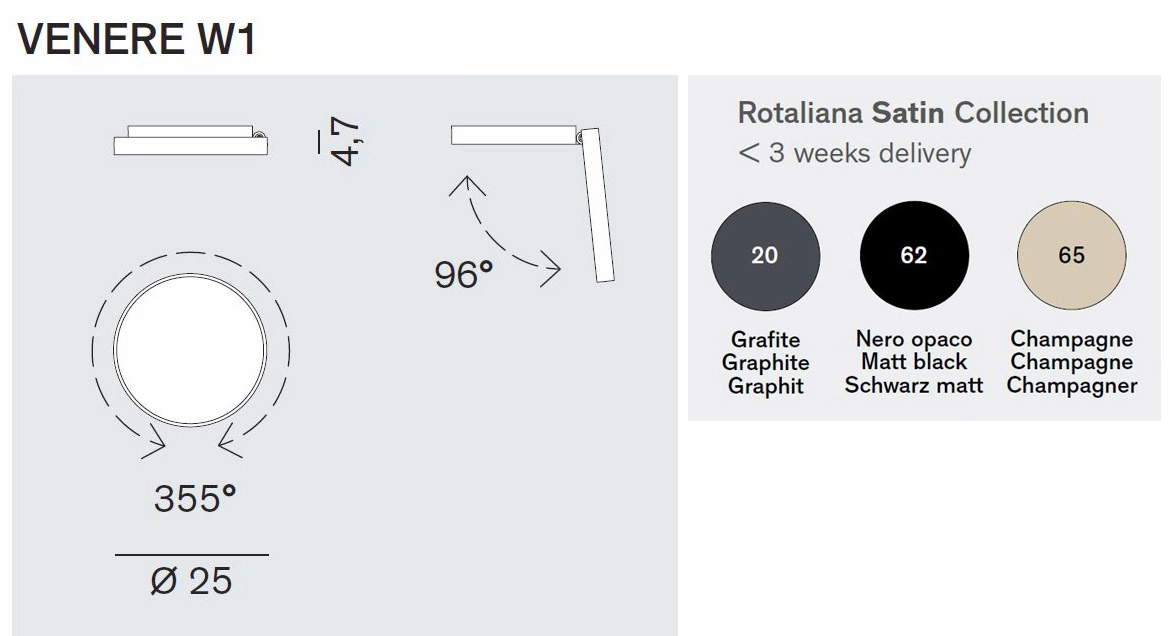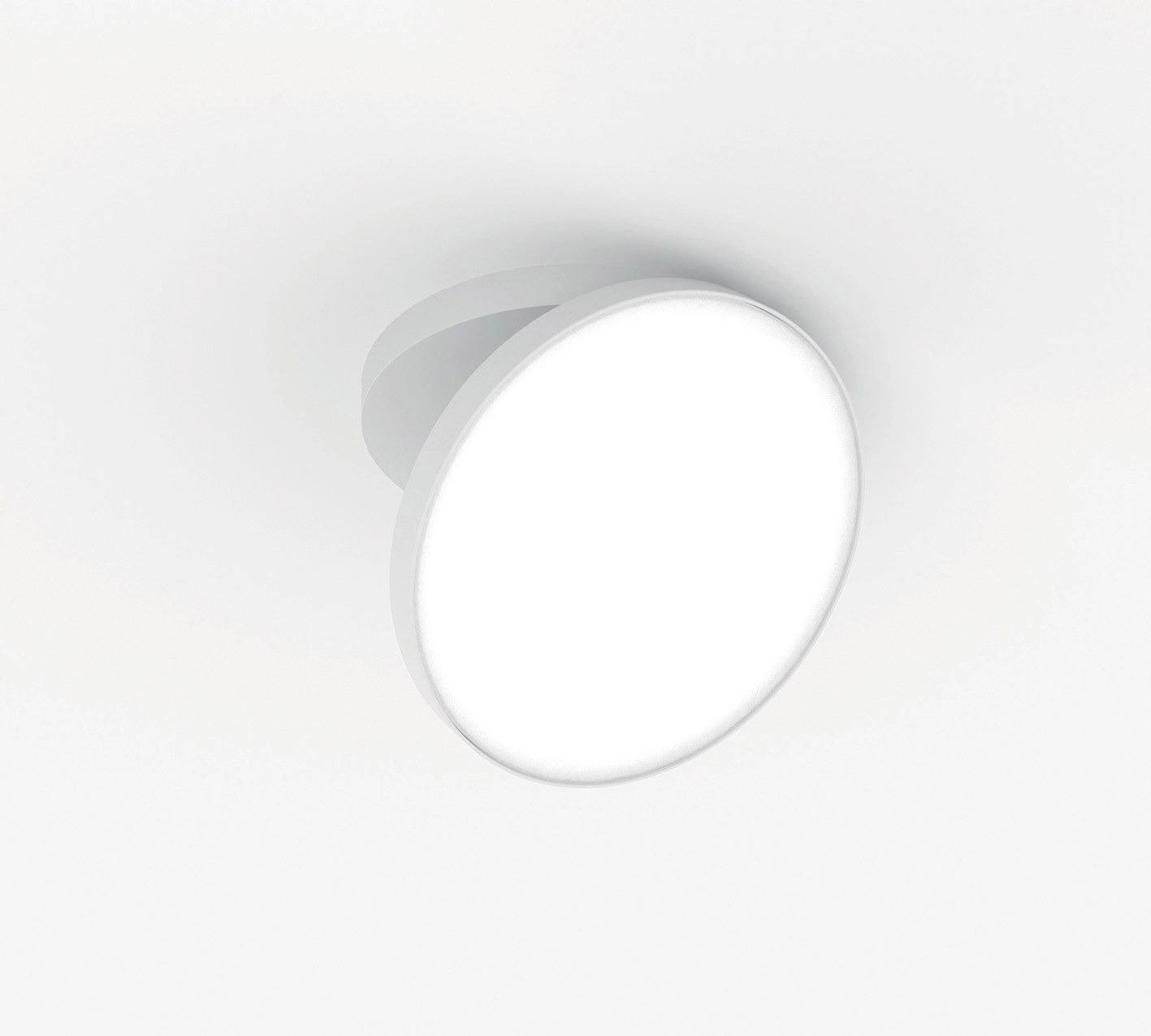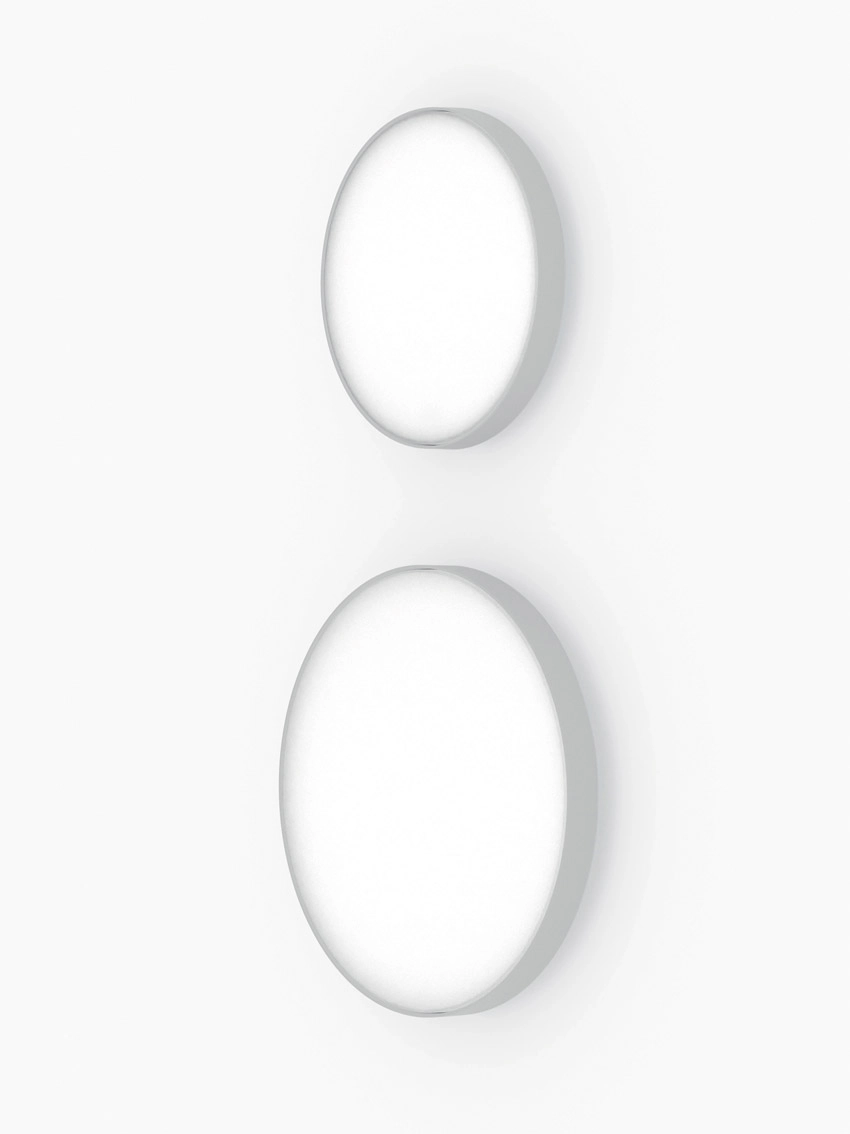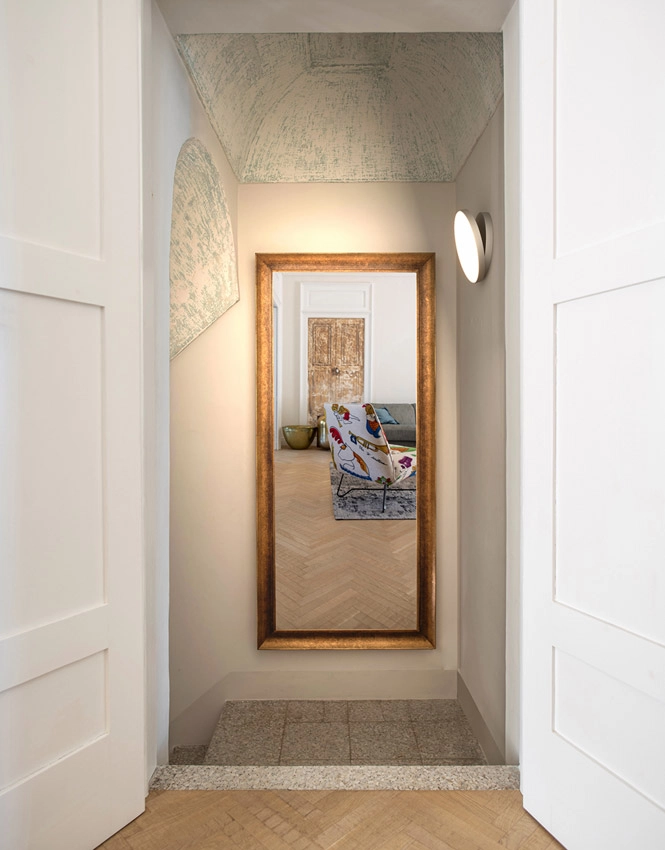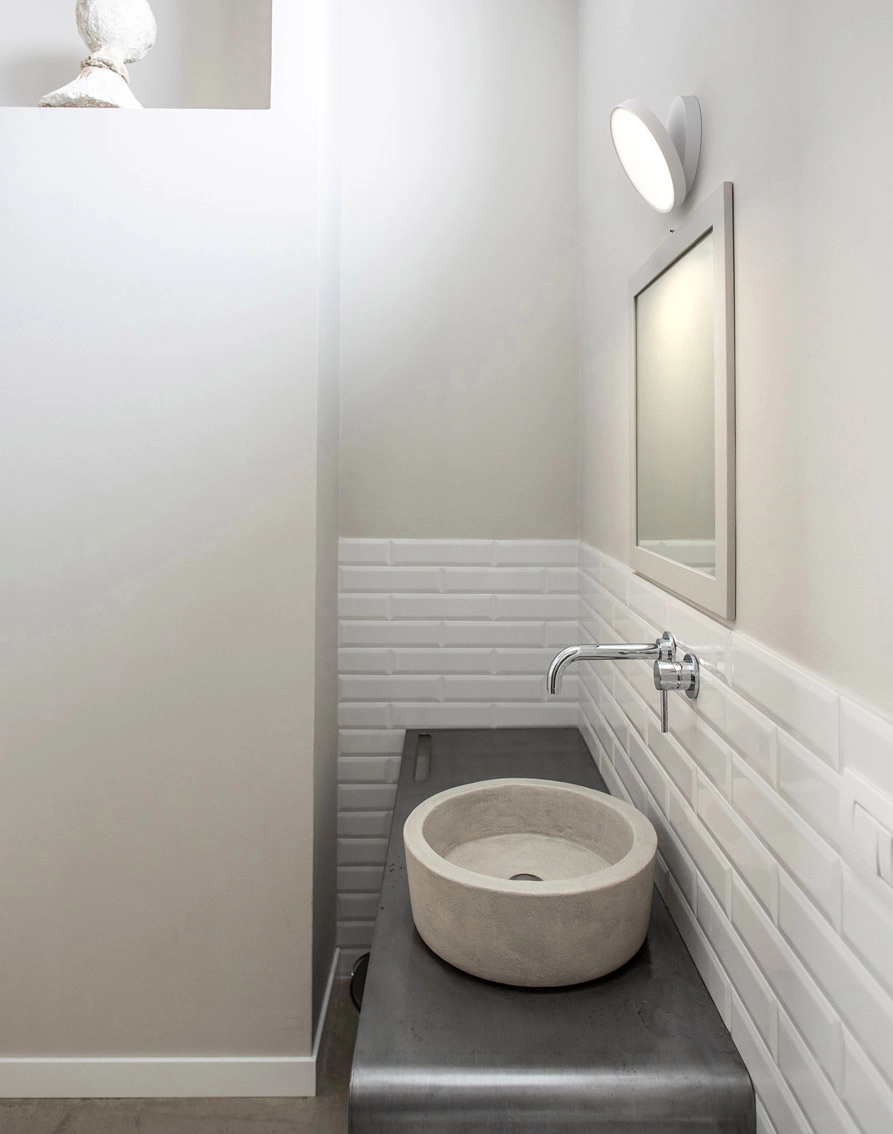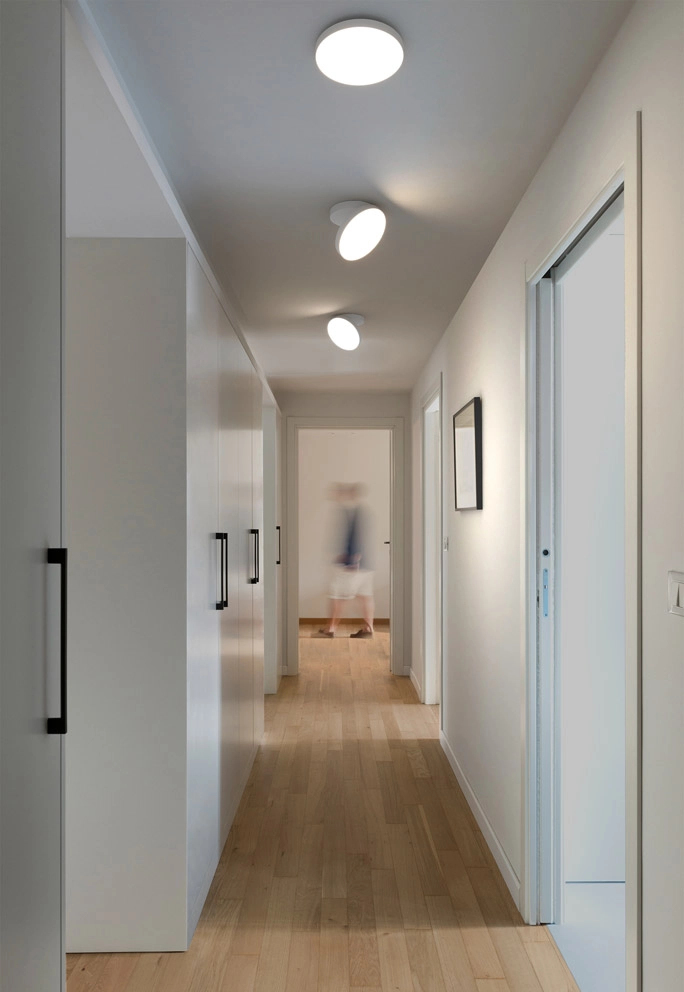 €411.16*
instead of €501.42* (18% saved)
on bank transfer -3% €398.83
+ Special discounts for registered customers
Delivery time 7-14 working days
Product information "Venere W1 and W2 LED lamp by Rotaliana"
Flexibly adjustable LED ceiling and wall lamp Venere by Rotaliana
The diffusely glowing LED light Venere by Rotaliana can be installed as a ceiling light and as a wall light. The powerful LED light consists of two parts. Part 1 consists of a round mounting plate and part 2 of another disc that is slightly larger. The second disc contains the LED module available in 2700k or 3000k and spreads a diffused light 2100lm. The lamp has a height of only 4.7cm.
What is unique about this model is its flexibility. The Rotaliana lamp Venere can be rotated completely (355°) and the larger disc can be opened up to 96°. This makes it possible to individually adjust the beam angle of the lamp. The wall and ceiling light is not only available in two different dimensions Ø 25cm (Venere W1) or Ø 33cm (Venere W2) but also as a non-dimmable or dimmable (Push or Dali) version. The lamp can be ordered in the following colors: matt white (standard color) or matt black, graphite and champagne (delivery time 3-4 weeks).
Manufacturer "Rotaliana"
Rotaliana lamps are expressions of an authentic and original production environment, combining - through the agency of that contemporary icon, the light unit - tradition and innovation, traditional roots and modern thinking.
In each of its products, with their rich identity of aesthetic, functional and cultural approaches, we can gain a strong sense of the aesthetic tendencies that characterize the contemporary scene in Italy and, almost like an imaginary bridge, link people with porducts, companies with the public.
But the singularity of the products goes beyond all this: they are projects which interpret the search for beauty, which is now a taste acquired by a large part of the population, but with a preference for a beauty not restricted just to the outer form, the visible impact, but which must be filled with a quality content. A beauty, in fact, which is also well made, which illustrates the capabilities of the personnel and designers of the company. A beauty that goes beyond the externals and reaches out to define objects with an inner spirit that satisfy the earth and not just the eye.
Details
| | |
| --- | --- |
| Brand: | Rotaliana |
| Article: | Venere W1 |
| Material: | aluminum and polycarbonate |
| Measures in cm: | 25x4,7 |
| Light source: | MID POWER LED |
| Bulb inclusive: | yes |
| Nr. of lights: | 1 |
| Wattage: | 25W |
| Lumen: | 2100lm |
| Light color: | 2700k |
| CRI: | 90 |
| Dimmable: | no |
| IP: | 20 |
| Weight: | 1,75 kg |