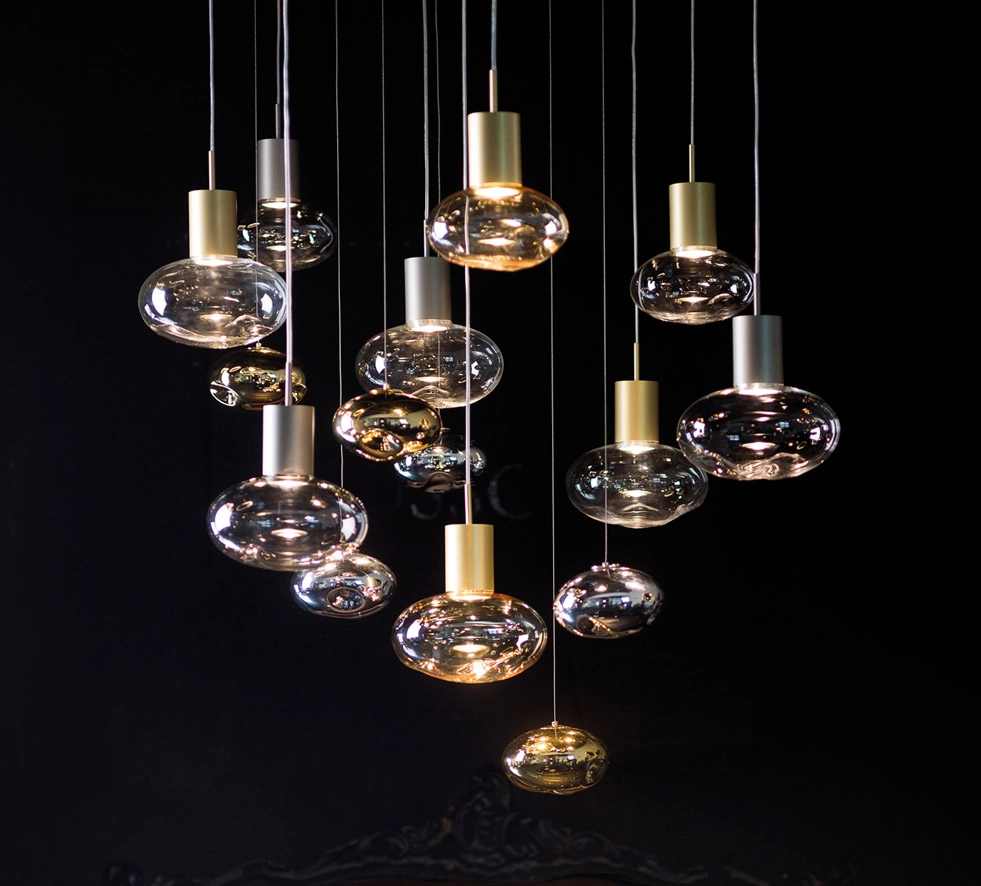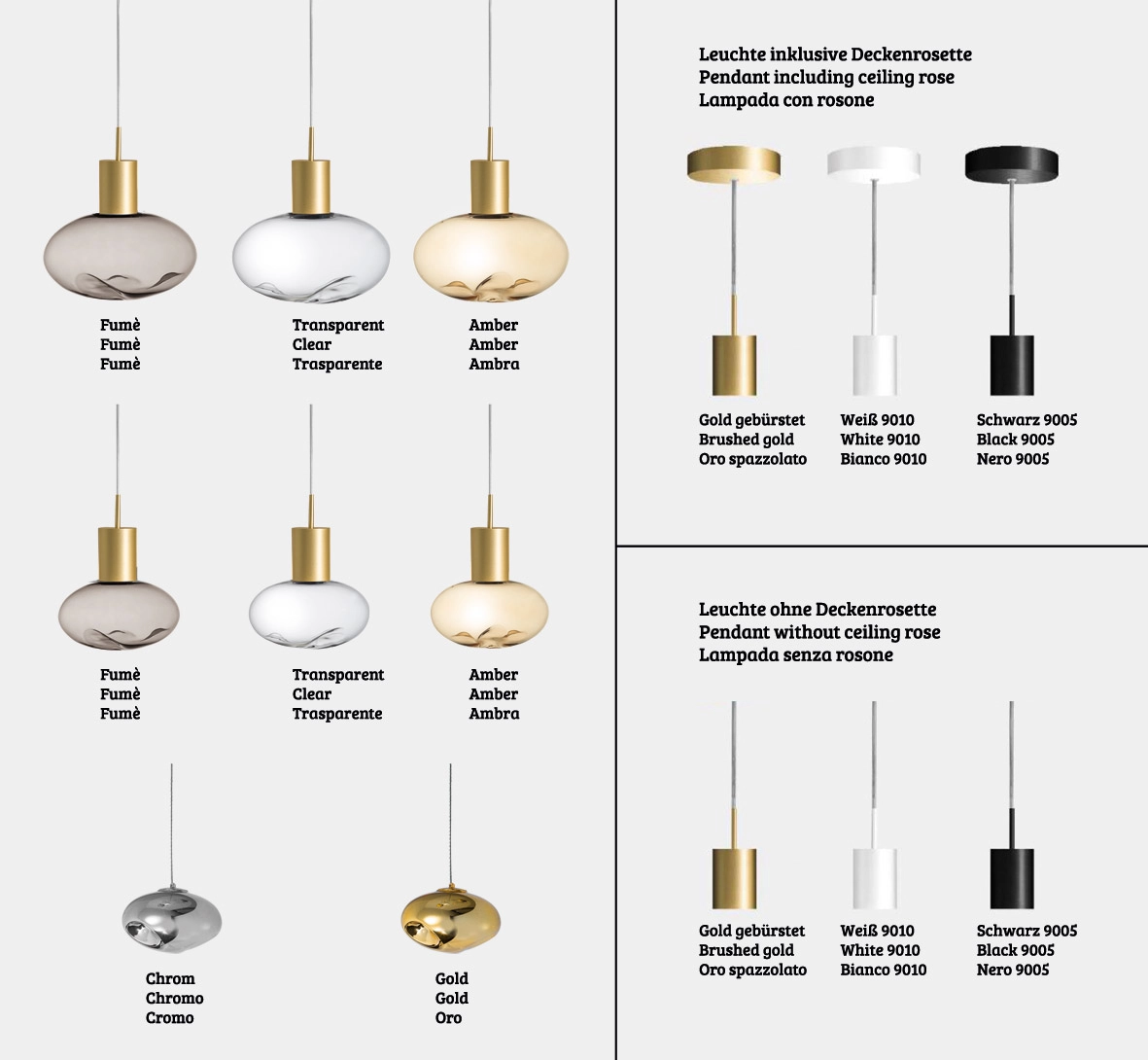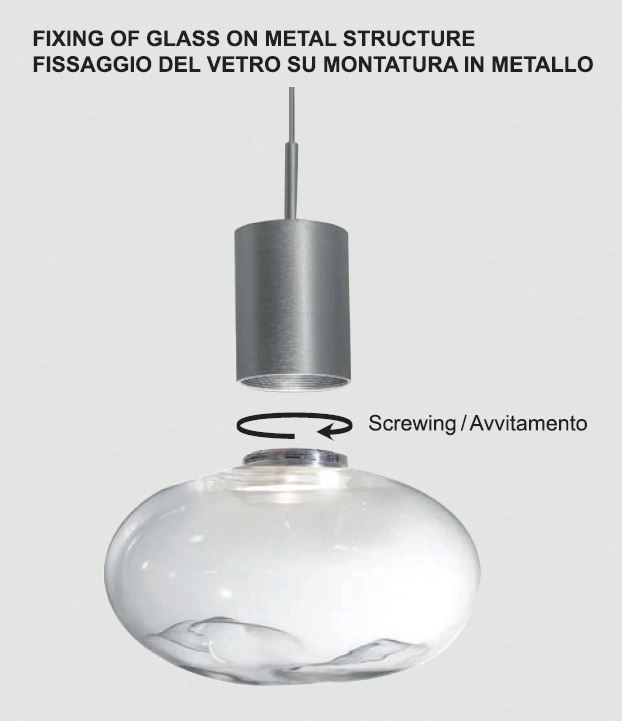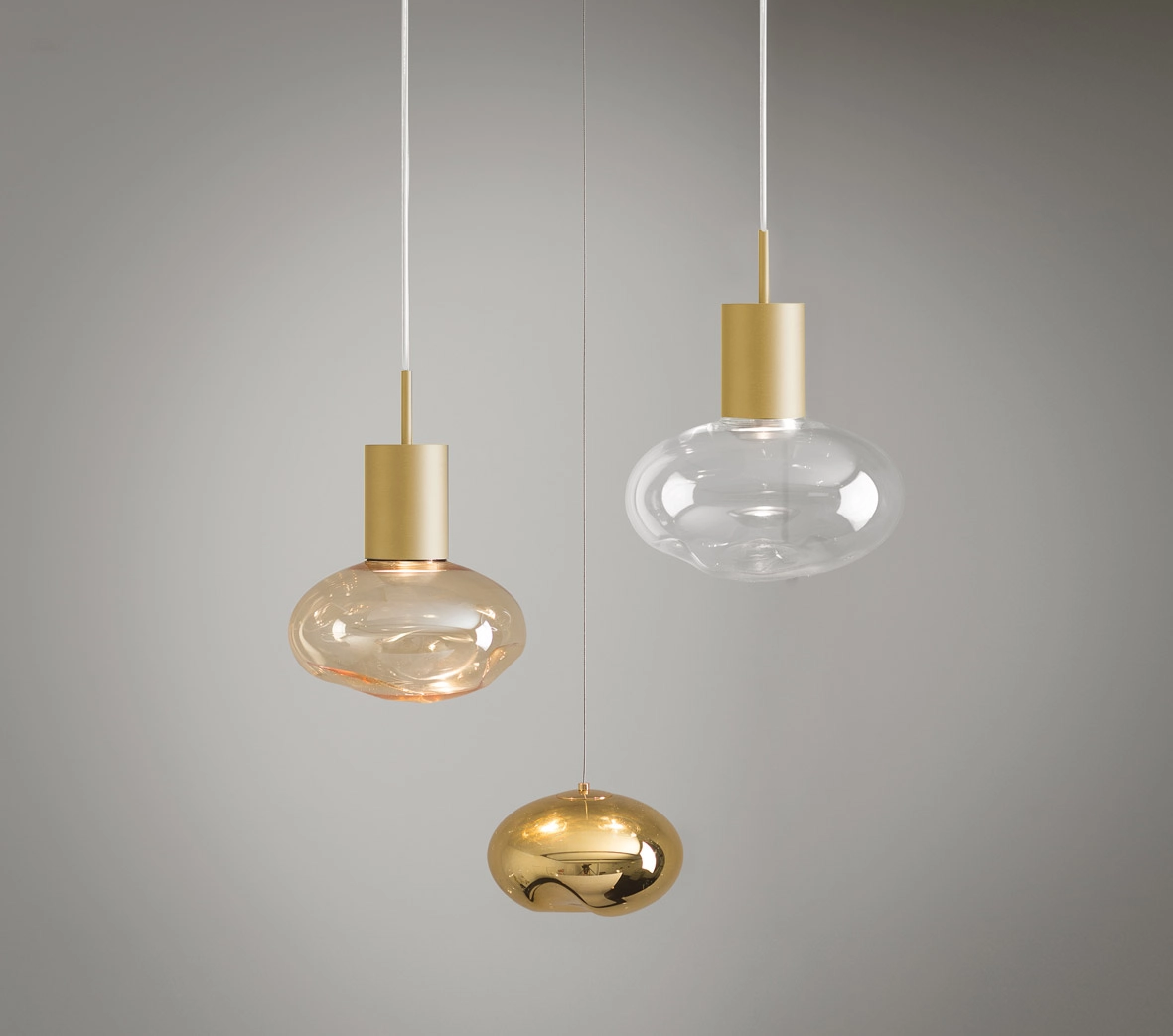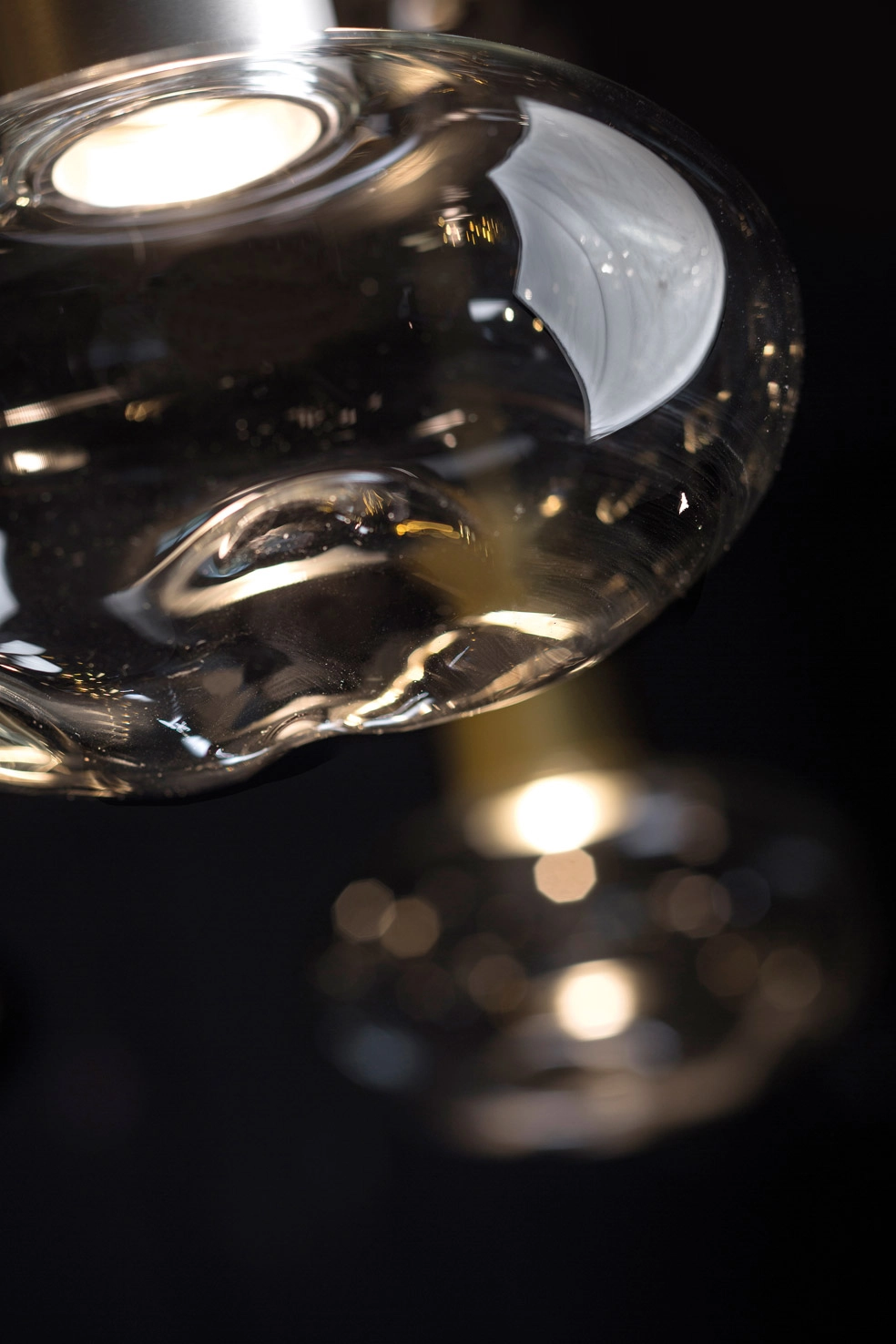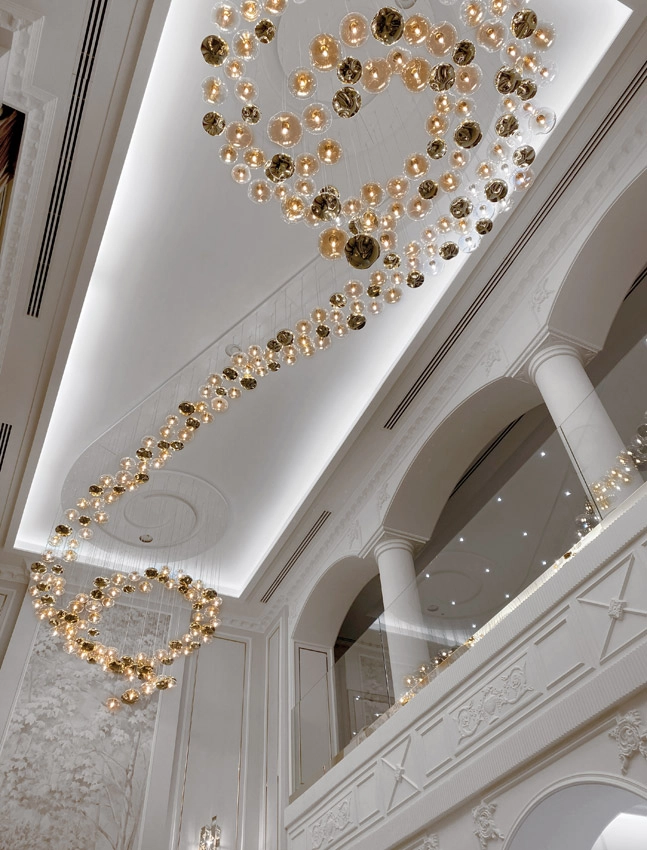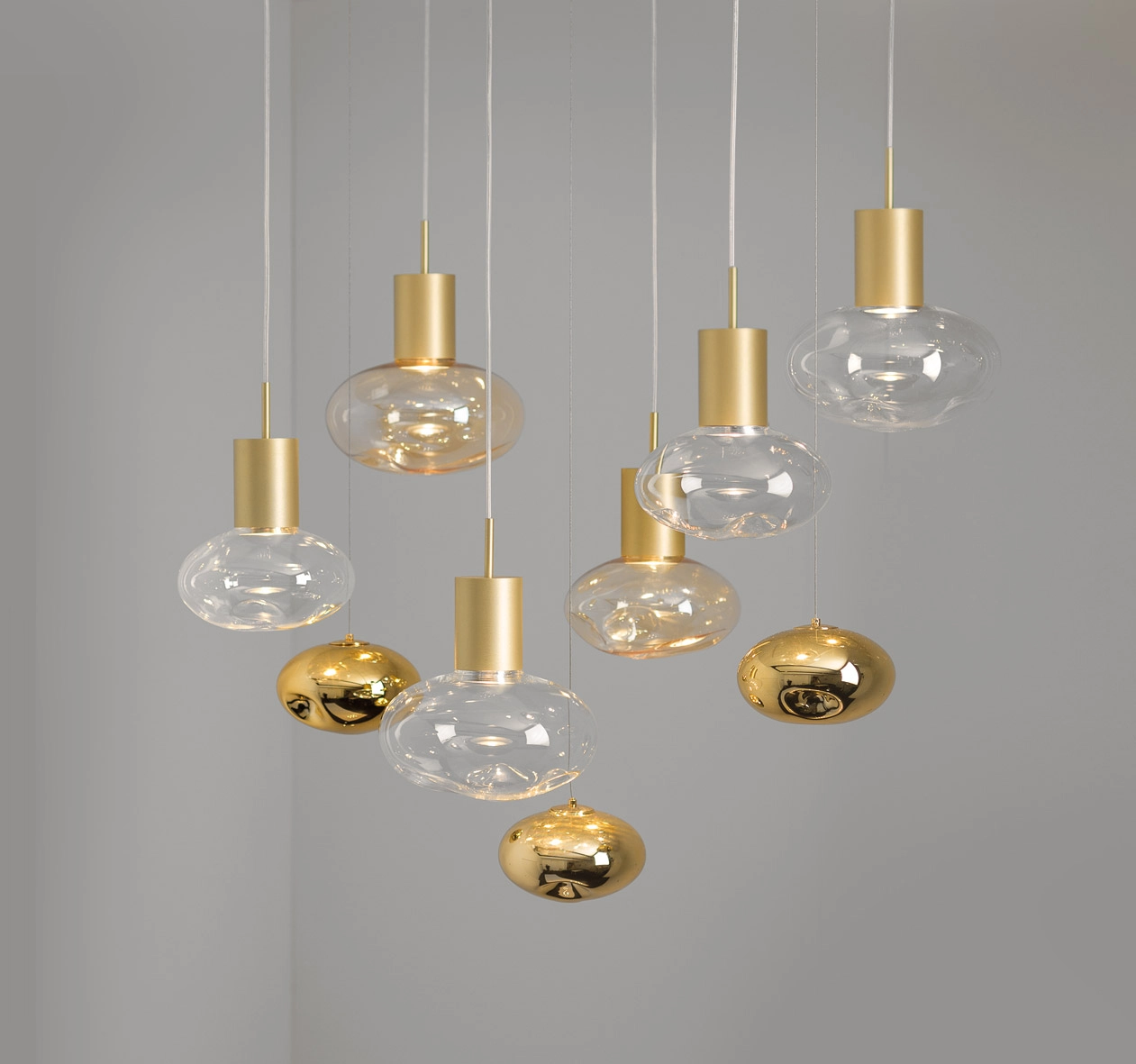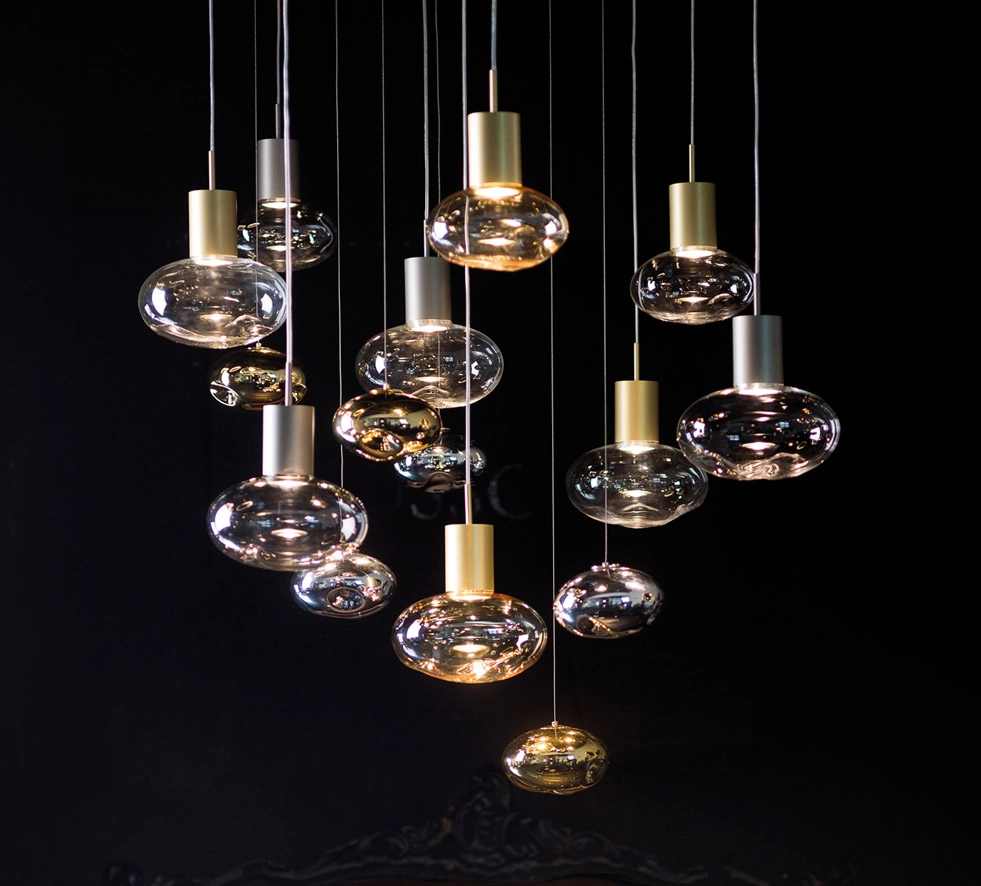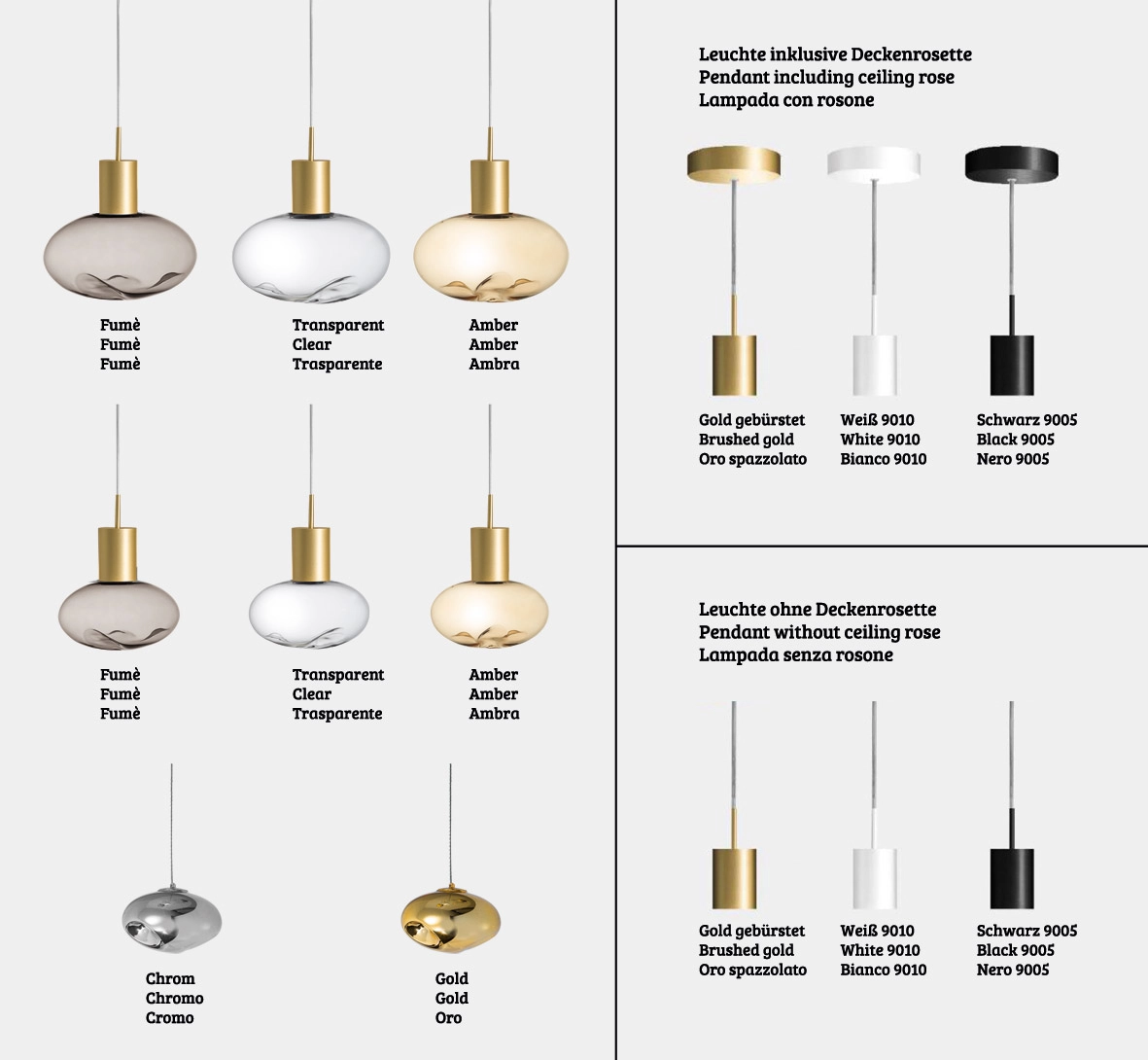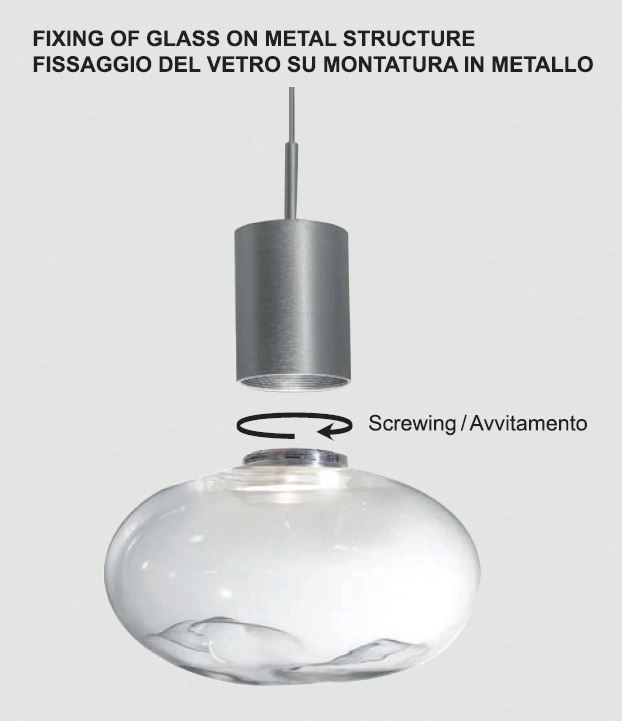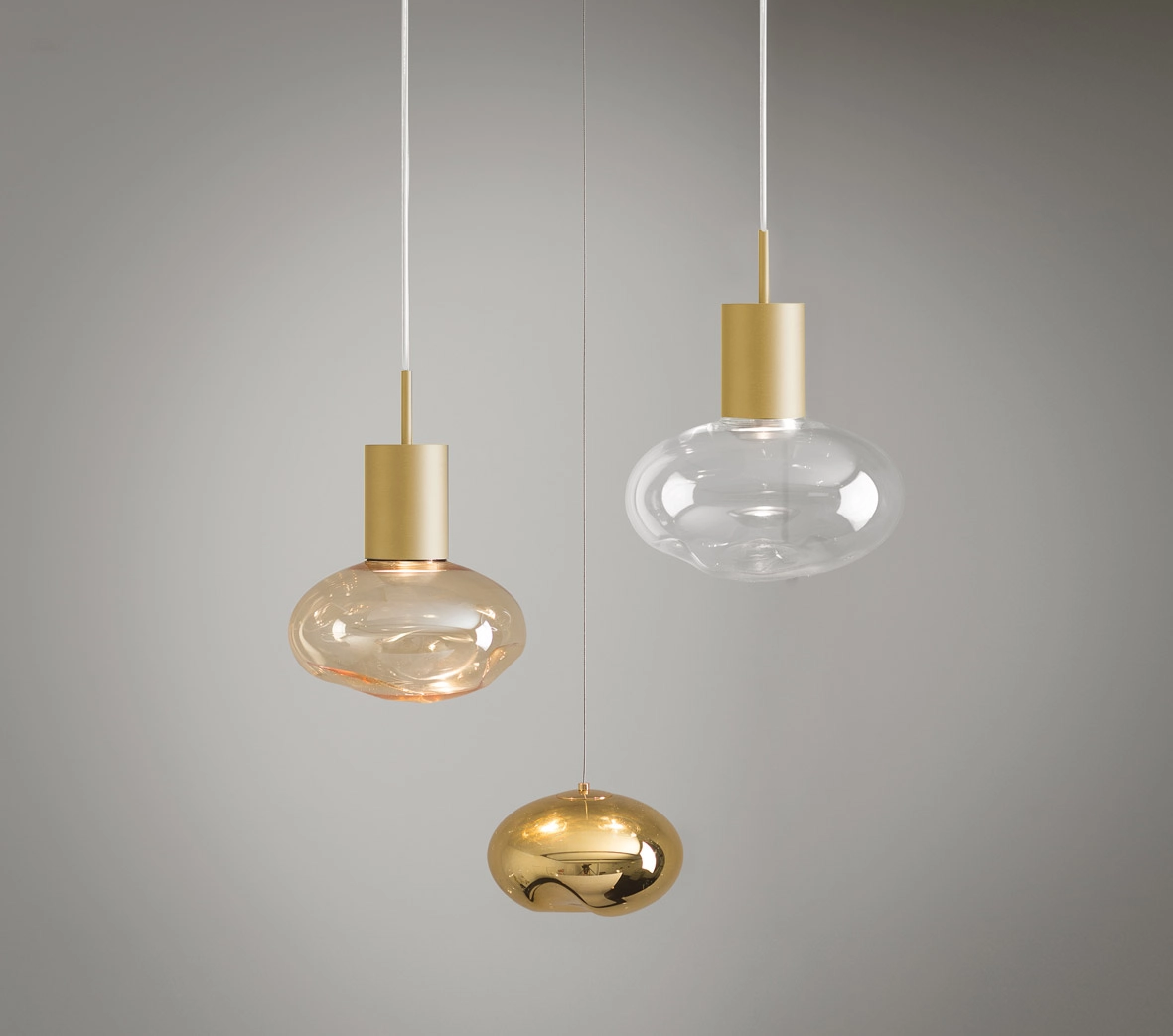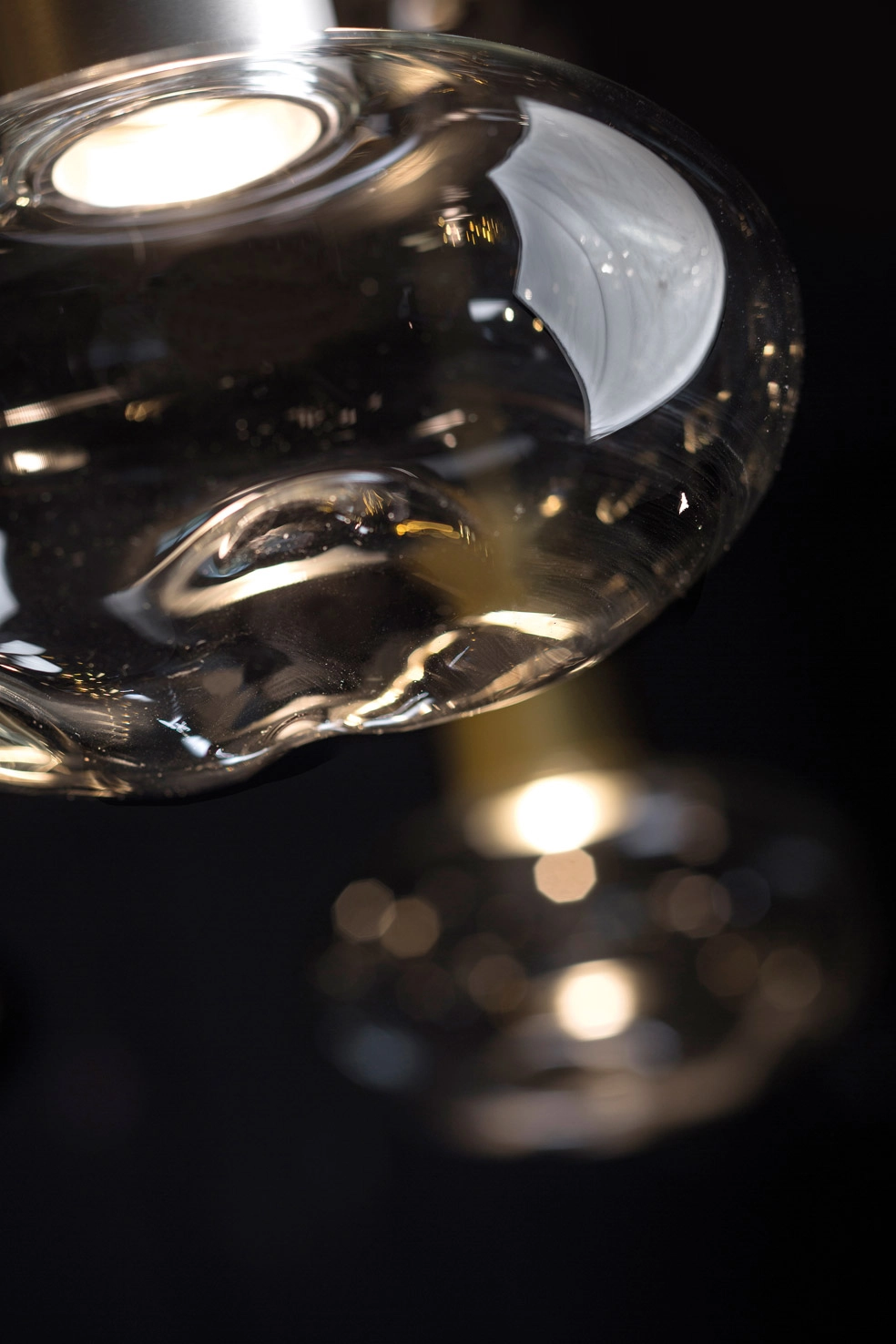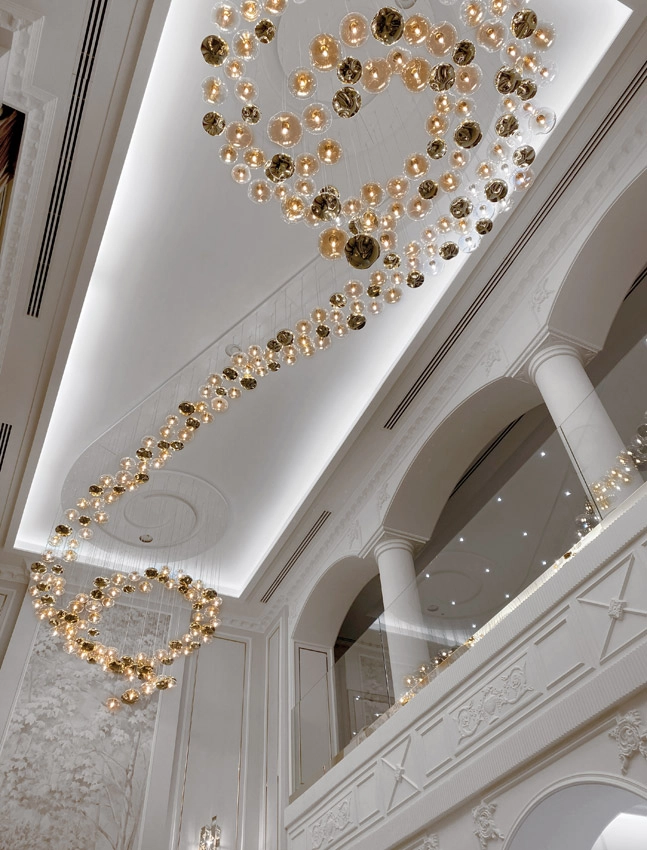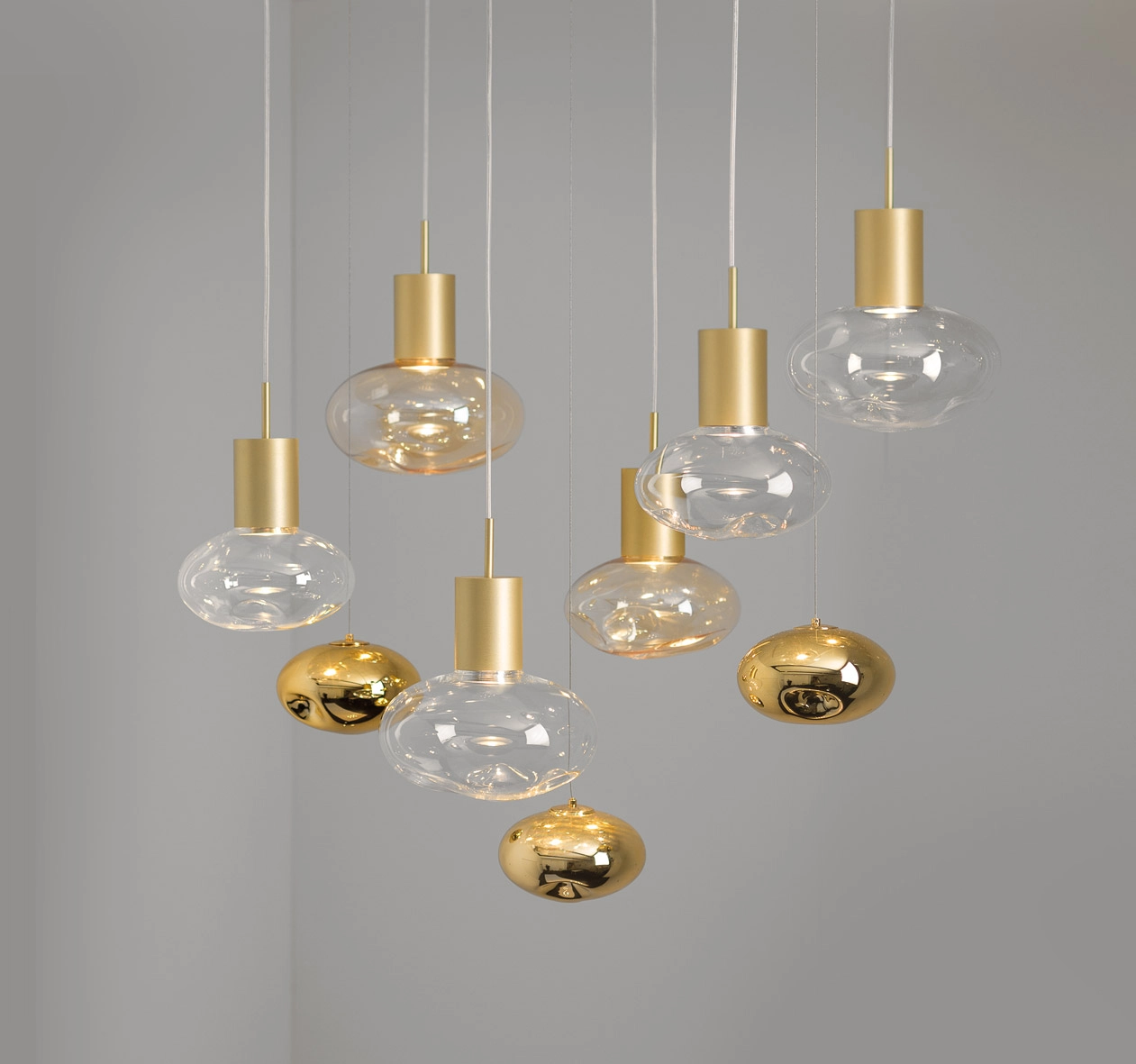 €139.05*
instead of €169.58* (18% saved)
on bank transfer -3% €134.88
+ Special discounts for registered customers
Delivery time 14 working days
Product information "Rosée hand-blown lamp by Vintage"
Borosilicate glass pendant light Rosee by Vintage from Light4
With its new pendant light Vintage by Light4 is developing another unmistakable designer lamp. The special thing about the Rosée lamp is not only the hand-blown borosilicate glass, but also its flexibility.
The main element of the designer lamp Rosée Medium and Rosée Big is the glass diffuser, available in the dimensions Ø 20cm and Ø 17cm and in the colors transparent, fumè and amber. The hand-blown glass has a smooth and oval shape except for the lower area, which has a unique pattern in the glass that is a little different for everyone. The glass has a thread in the upper area that is screwed into a metal holder and can therefore be unscrewed again at any time, for example when cleaning the glass. Inside the metal bracket there is a GU10 lamp holder, ideally suited for GU10 LED lamps. So, you are flexible in terms of light intensity, light color and dimming.
You can also choose from three different metal colors or order the lamp with or without a ceiling canopy. The metal bracket is available in black, white or brushed gold.
Available on request:
multi- canopys (are used to let several lights hang down in the same place and then all of them to be connected to a single power outlet. The multi-rosettes are available in round, angular or elongated rails in matt white or matt black).
built-in canopy
power cable in black
ceiling rose in white
Manufacturer "Vintage by Light4"
As its name indicates, this brand focuses on the past, reintroducing and expressing it with timeless designs. The structure of its suspended lamps, ceiling lamps and wall lamps has followed a tradition of lighting, which extends from Baroque-style lamps to polychrome glass experimental solutions.
With their stylish lighting, Vintage brand products provide an excellent combination of furnishings and decoration, luxury and functionality. A touch of glamour enhances top-quality products, with daring modern details to make the most classic shapes innovative. The Vintage brand also expresses the highly versatile nature of Light4, offering solutions for the contract furnishing sector, with custom-made lighting installations and services.
A new concept of luxury is communicated, and thanks to a combination of classic lines, modern taste and innovative materials, the product lines of this brand create highly attractive contrasting effects. These special features enhance the most diverse interiors, offer extra personality and place Vintage in a precise position: providing not only lamps but also sensations.
The design path followed concentrates on increasingly daring lines, for everlasting interaction between the past and future. Traditional refinement provides prestigious contemporary luxury in all possible contexts.
Details
| | |
| --- | --- |
| Brand: | Vintage by Light4 |
| Aricle: | Rose Medium |
| Material: | borosilicate glass and metal |
| Measures in cm: | 17 |
| Socket: | GU10 |
| Bulb inclusive: | no |
| Nr. Of lights: | 1 |
| Wattage: | max. 8W LED (ca. 80W) |
| Dimmable: | yes |
Rosée Small decorative element by Vintage
Blown glass body Rosee Small by Vintage from Light4 The Rosée Small is the smallest of the three Rosée models and serves as a so-called decorative element together with the Rosée Medium and Rosée Big hanging lights. The glass ball has no light source, is not transparent but is mirrored in gold or chrome and is held in place by a steel cable. Just like the hanging lights Rosée Medium and Rosée Big (equipped with a light source), this glass body also has a unique grain in the lower area of the blown glass. This "dummy module" is particularly suitable in a group combination of several Rosée Medium and Rosée Big pendant lights. Together you can create a unique combination of lamp and decorative element. Attention: the Rosée Small decorative element does not include a ceiling rose (surface-mounted and built-in rosette available on request).
€95.04* instead of

€115.90*
Delivery time 14 working days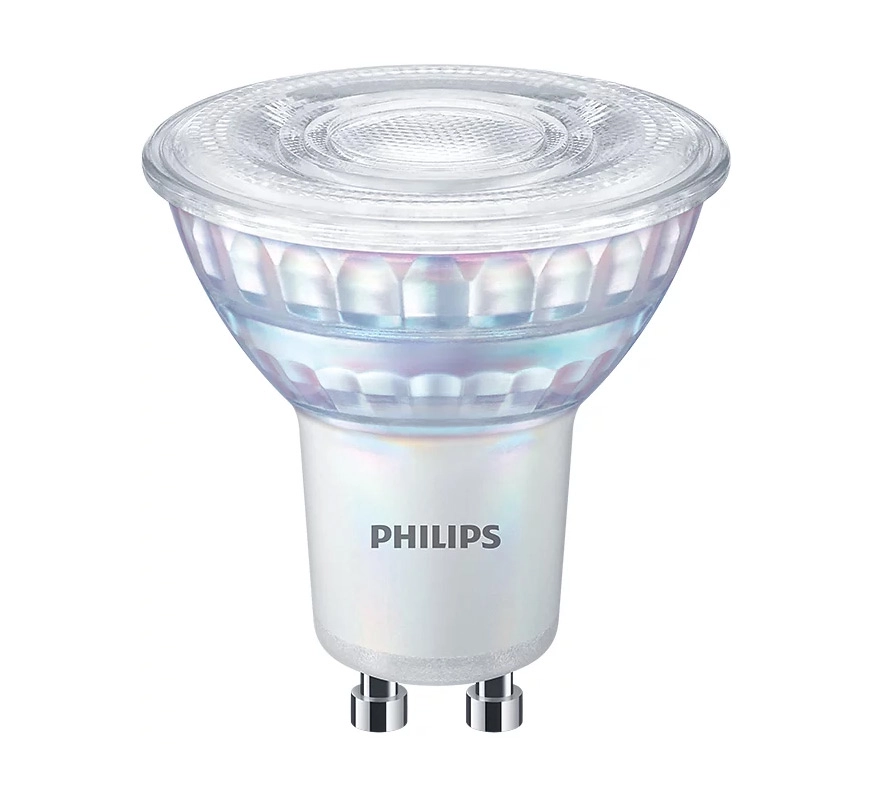 Philips LED GU10 80W 2200k-2700k DIM
GU10 LED bulb 6,2W-80W 2200k-2700k DIM-Tone by Philips Economical GU10 LED lamp from Philips with 6.2W (80W) and DIM tone technology from 2200k to 2700k. DIM-Tone means that the light color is changed when dimming. At full power, the bulb spreads 2700k. If the illuminant is dimmed down (phase cut/triac), then the light is not only weaker, but warmer up to 2200k. Lumens 575lm and CRI90.
Delivery time 2 working days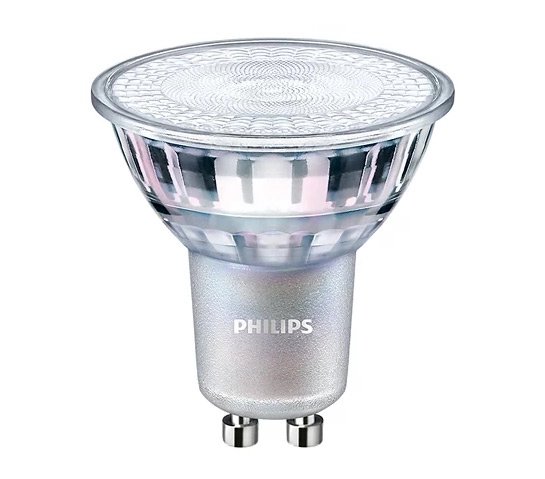 Philips LED GU10 50W 2700k DIM
GU10 LED bulb 4.8W-50W 2700k DIM by Philips Economical GU10 LED lamp by Philips with 4.8W (50W), light color 2700k and phase cut (Triac) dimmable. Lumens 355lm and CRI90.
Delivery time 2 working days